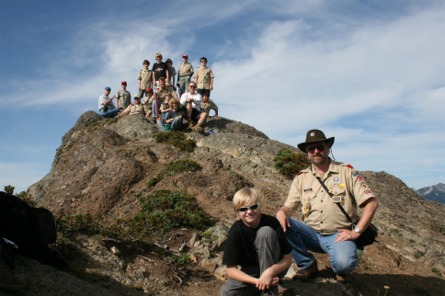 FICRA Sponsors Boy Scout Troop 27
Boy Scout Troop 27, headquartered at the Nichols Community Center on Fox Island, is the 'official' Fox Island Scout Troop.
Boys aged 11 to 17 are encouraged to join; contact John Ohlson at 253-380-4100 for more information, or visit us on the web: Troop27BSA.com
Meetings are held at 6:30 PM at the Nichols Community Center, on the second & third Mondays of the month.

Scouts of Troop 27 on the summit of 5,475 foot Mt. Beljica, in the Glacier View Wilderness area.
Visit Troop27BSA.com for more information on how to join. Don't miss out on all the fun, see you there!
Fox Island is home to scouts from Cub Scout Pack 27, Boy Scout Troop 27 and Venture Crew 27, a coed youth organization for boys & girls ages 14 - 21. Other Scout Troops in the Gig Harbor area include Troop 212, Troop 217, Troop 282 and Cub Scout Pack 202. Boys aged 6 to 17 can join Scouts.
Junior Girl Scout Troop 4290, serves Fox Island and Gig Harbor Girl Scouts, and meets on the first and third Mondays of the month at the NCC.

Alliance Church Teen Program
Every Wednesday night (7-8:30pm) there is a teen program for grades 6-8 come and join the fun! We sing, play games and just have plain fun, so come over some time!

Gig Harbor Peninsula Girl Scouts
For information about joining Girl Scouts, or starting a Troop, Call Erin Fletcher at 253-857-6433