Fox Island Historical Cruise

On September 16, 2017 The Carlisle II is returned for the annual Historical Cruise Around Fox Island, aboard the Carlisle II, one of only two remaining operational Mosquito Fleet vessels. Dave McHugh was the narrator on the two hour cruise around the island.

For more information, please visit the museum's website: www.foxislandmuseum.org or call Karen Kretschmer at 253-514-5884.

Fox Island Historical Cruise Fundraiser
Sunday, August 14, 2005
The Historical Society held a fun-filled cruise around Fox Island, on the boat "My Girl". Food and libations were offered. The cruise lasted approximately one hour. The cruise departed from the FI Yacht Club dock. The cost was $40 per person.


Photo by John Ohlson

| | |
| --- | --- |
| Photo by John Ohlson | Island residents learned about historical landmarks on the Island, and heard tales from Fox Island's past. The luxury yacht "My Girl" departed from the Fox Island Yacht Club dock, located on Cedrona Bay. |
September 25, 2015
The Fox Island Historical Society reinstituted our annual Boat Cruise Around Fox Island aboard the Carlisle II in 2015 after a 10 year absence of this event. It was a huge success.

August 26, 2001
The Museum sponsored
an

annual Cruise Boat Trip around Fox Island.

First Cruise at 1 O'clock, second cruise at 3 PM. An approximately one hour trip around Fox Island in an historic old boat. This boat is our favorite. Old classic lines and with lots of room. The curator of the Fox Island Museum will narrate the trip as it circles the Island.

Curator, George Miller was on board to point out the various historical points of Fox Island. A great way to show all your friends Fox Island. Included in the price of the trip was an 11 X 14 frameable Map of Fox Island. Cost of the trip was $12.50 for Adults and $7.50 for Children 12 and under. Toddlers free.

2000 Cruise A Success!
The Fox Island Historical Society held it's annual historical cruise of Fox Island's shoreline on August 27, 2000. George Miller narrated the voyage, providing historical facts and stories about the various landmarks and buildings on Fox Island.
The event was well attended, with two sailings at 2:00 PM and 4:00 PM.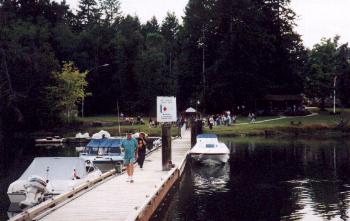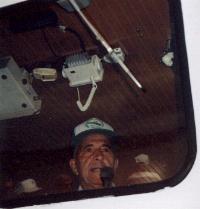 Cruise passengers anxiously await departure. George Miller, on the bridge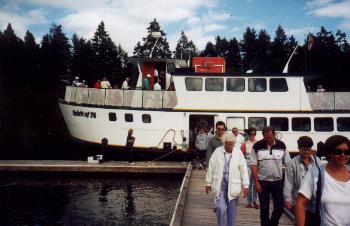 The "Spirit of '76" was our ship for the 2000 Historical Cruise.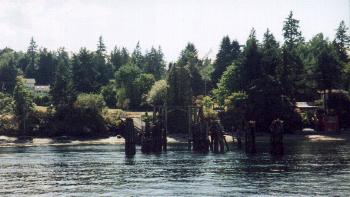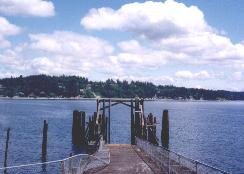 The old Fox Island Ferry Landing, at 9th & Fox Drive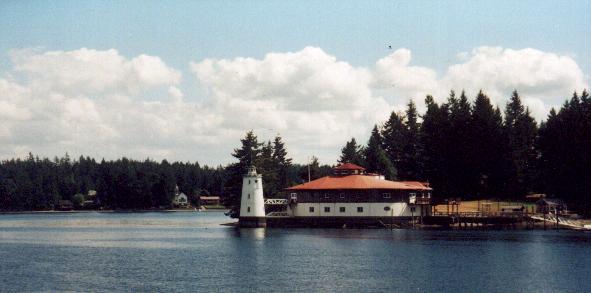 Tanglewood Island lighthouse, with the Chapel on Echo Bay in the background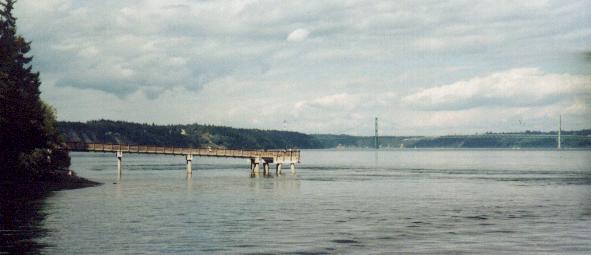 The Fox Island Concrete Dock fishing pier, with the Tacoma Narrows bridge in the background