Fox Island Announces new 'Girls-Only' Scouts BSA Troop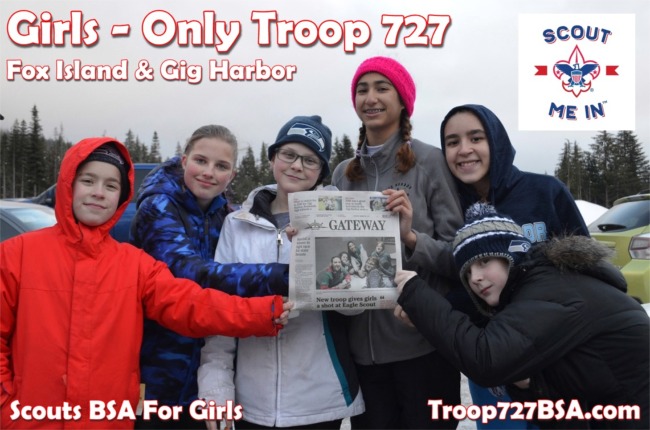 The Founding Members of Troop 727 on their first outing to Snoqualmie Pass.
Scouts BSA Troop 727 is a 'girls-only' Scout Troop, based on Fox Island, WA.
Troop 727 is currently recruiting girls from Gig Harbor and Fox Island, ages 11 to 17 years old, to join the newest member of the '27 Family' of Scouting on Fox Island.
For the first time in its 100+ year history, the iconic program of the Boy Scouts of America will be open to young women. Here on Fox Island, Scouts BSA Troop 727 is a girls-only, year-round program for girls in fifth grade through high school that provides fun, adventure, learning, challenge, and responsibility to help them become the best version of themselves.
Meetings will be held at the Nichols Community Center, 690 9th Ave, Fox Island, WA 98333.
Contact Us to find out more about joining Troop 727

Fox Island Cub Scouts Recruiting New Members

Fox Island's Pack 27 Cub Scouts gathered at a recent Pack Meeting at the Nichols center.
The Cubs are recruiting new members (boys AND girls) for the 2021-2022 School year, including Kindergartners and First Graders. The BSA has launched a new program for Kindergartners, called "Lion Cubs", and girls are now welcome to join Cub Scouts!
Calling all Lions, Tigers, Wolves and Bears!
Pack 27 is now recruiting boys and girls from Kindergarten to 4th grade for the 2021 - 2022 school year! Announcing a brand new program for Kindergartners,
find out more about the Lion Cub program.
Contact Us to find out more about becoming a Lion Cub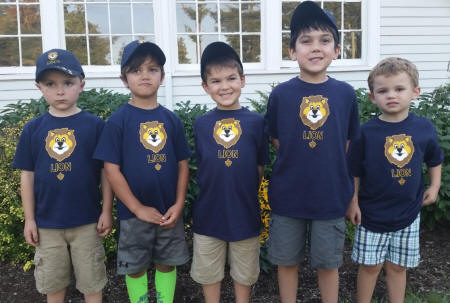 Fox Island's first Lion Cubs!
The Lion Cub program is a new Scouting program for Kindergarten boys. Like all Scouting programs, it weaves the concepts of character development, leadership skills, personal fitness, and citizenship into activities that are age-appropriate and fun.

The activities introduce the family to Cub Scouting, and provide an exciting way for the little guys to explore the world around them. The program will fuel their imagination, creativity and fun as they experience the growth Scouting can provide.

At the end of the kindergarten year, Lions will "graduate" into Cub Scouting as a Tiger – where even more fun and adventure will await!
Contact Us to find out more about becoming a Lion Cub
Pack 27 is affiliated with Boy Scout Troop 27, also sponsored by FICRA.
Fox Island boys ages 7 - 10 years old are encouraged to join Pack 27,
Visit our Pack 27 website for more information.
Find out more about Cub Scouting on Fox Island
Visit our Pack 27 website for more information.