Fox Island Cemetery Association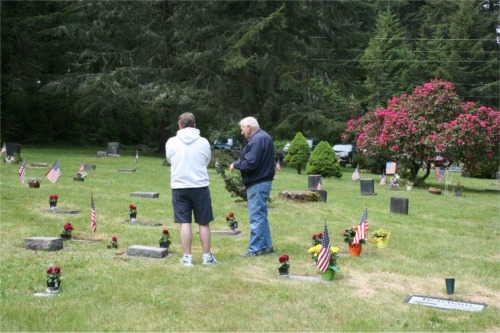 Fox Island Cemetery Association
Judy Hackett, President
253-549-2015
FoxIslandCemetery.org
The Fox Island Cemetery is located at 600 Island Blvd, on Fox Island, WA. Many war veterans are buried there, as well as Fox Island's early pioneers, and Washington's Governor Dixy Lee Ray.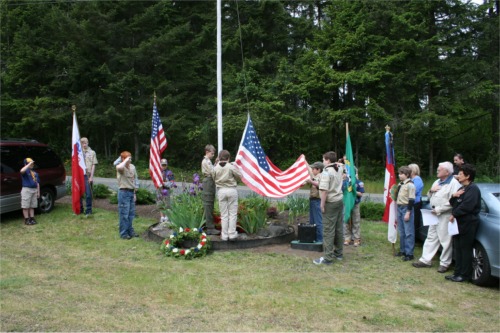 Each year the Boy Scouts and Cub Scouts of Fox Island gather to honor Fox Island's veterans by performing a flag ceremony on Memorial Day.

Boy Scouts from Fox Island's Troop 27, Pack 202 and Troop 212 perform the Memorial Day flag ceremony in 2011.

A reading of the names of Fox Island's veterans, dating back to the civil war, follows the raising of the flag.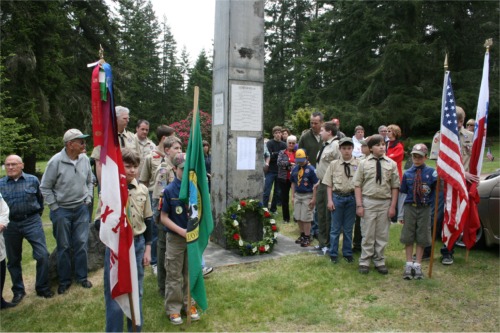 Cub Scouts lay a memorial wreath at the base of the Centennial Memorial Monument, containing a time capsule, and a listing of the names of veterans from the Indian Wars, Revolutionary Wars, War of 1812, Mexican War, Civil War, Spanish American War, World War I, World War II, Korean War and the Vietnam War.

For more information, Please contact:
Fox Island Cemetery Association
Judy Hackett, President
253-549-2015
FoxIslandCemetery.org
Contact Us

Other nearby Cemeteries:
Cromwell Cemetery Hales Passage Scandinavian Lutheran Cemetery
2500 62nd Ave NW
Pierce County
Gig Harbor, WA 98335
Artondale Cemetery, Established 1895
5512 Hunt Street NW,
Gig Harbor, WA 98335
Gig Harbor Cemetery, Established 28 Aug 1891
(AKA Old Gig Harbor Cemetery, Crescent Valley Cemetery)
North Gig Harbor at the end of 22nd Ave NW.


You are visitor
to this page since June 19, 2011