New Fox Island Post Office, built in 2011


The old Post Office, circa 2000.

Fox Island
Post Office

560 Fox Drive
Fox Island, WA 98333

Theresa Goss,

Postmaster

253-549-2517

Hours of Operation:

Monday - Friday
8:00 AM - 1:00 PM


1

:

3

0 PM -

4

:

3

0 PM
Saturday:
9:00 AM - 10:30 AM
Boy Scout Service Project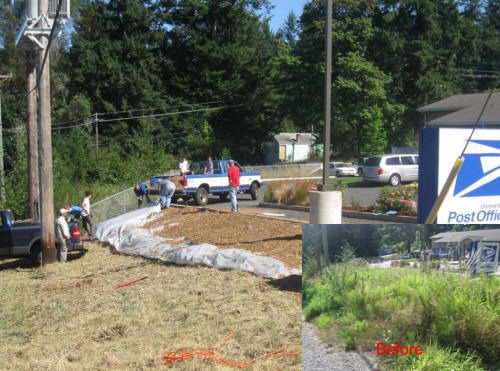 The Troop 27 Boy Scouts recently completed a service project at the Fox Island Post Office.
The grassy strip in front of the Post Office had become overgrown and unmanageable, so the Postmaster asked the Scouts if they could clear out the brush and weeds, and get some mulch in place to prevent them from growing back.
The project was completed in two weekends, with volunteers and parents from Troop 27.
Contact the Fox Island Post Office

You are visitor
to this page since June 11, 1999